The University of Alaska Anchorage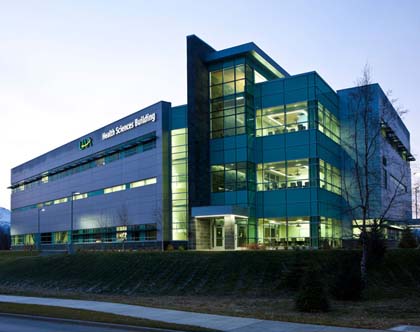 The largest Alaska university, with a current enrollment of more than 20,000 students, with about one-fifth pursuing graduate degrees. UAA offers more than 150 graduate and undergraduate degree programs through six colleges and schools and four community campuses. Faculty with biomedical research interests, including clinical and translational research programs, are primarily located in the Colleges of Health and of Arts and Sciences. Within these Colleges, research is housed in the Centers for Behavioral Health and Research, Human Development, and Alcohol and Addictions Studies, in the Institute for Circumpolar Health Studies and the National Resource Center for Alaska Native Elders, and within the Departments of Biological Sciences, Health Sciences, Chemistry, Psychology, and the WWAMI Biomedical Program. Research topics appropriate for Pilot Grant and core support include health effects of environmental contaminants in air and water, hepatitis infection and liver cancer, non-alcoholic fatty liver disease, impacts of smoke and smokeless tobacco use, alcohol and drug abuse, Fetal Alcohol Spectrum Disorders, health impacts of social isolation and food insecurity, and health threats resulting from climate change.
To contact the MW CTR-IN Administrative Core by phone, you may call (702) 895-1079 between 8:30am to 5:30pm, Monday - Friday, excluding holidays. Or, you may email us at ctr-in@unlv.edu at any time.