The University of Nevada, Las Vegas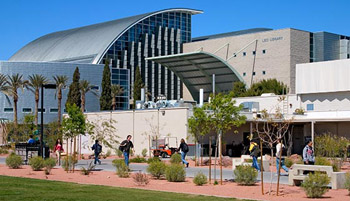 With its innovative frontier spirit, University of Nevada – Las Vegas (UNLV) is a thriving urban research institution with a diverse enrollment of more than 24,700 students, 4200 graduate students, 1507 faculty members, and 1,185 international students & scholars. UNLV offers more than 390 graduate and undergraduate programs through 146 academic programs which include the following clinical and translational research (CTR) related schools: School of Medicine, School of Dental Medicine, School of Nursing, and School of Social Work. Noted for its strong emphasis on science and technology, business management, and law programs by the Carnegie Foundation for the Advancement in Teaching, UNLV has continued to keep pace with one of the country's fastest-growing and most enterprising cities. With the continued growth of its 332 acres main campus, UNLV has evolved to also include the Shadow Lane Campus, just east of the University Medical Center of Southern Nevada, which houses the only dental school in Nevada and the new UNLV School of Medicine (www.unlv.edu/medicine).
As the home for the Journal of Health Disparities Research, UNLV's School of Community Health Sciences houses the American Indian Research and Education Center, Center for Health Disparities Research, Center for Health Information Analysis and the Nevada Institute for Children's Research and Policy, while the School of Nursing houses the Center for Biobehavioral Interdisciplinary Science. UNLV also has partnerships with the Cleveland Clinic Lou Ruvo Center and has formed Southern Nevada's first Center of Biomedical Research Excellence (COBRE) to research topics related to Parkinsons' and Alzheimer's Diseases. As the host university for the Mountain West Clinical & Translational Research Infrastructure Network (CTR-IN) Program, UNLV leads the Mountain West (MW) regional 13 university partnerships to spur further research infrastructure development, support professional and career development for faculty, and provide pilot grant funding for CTR for faculty to subsequently obtain extramural grant funding to improve the health of the residents of the Mountain West Region.
To contact the MW CTR-IN Administrative Core by phone, you may call (702) 895-1079 between 8:30am to 5:30pm, Monday - Friday, excluding holidays. Or, you may email us at ctr-in@unlv.edu at any time.