The University of Wyoming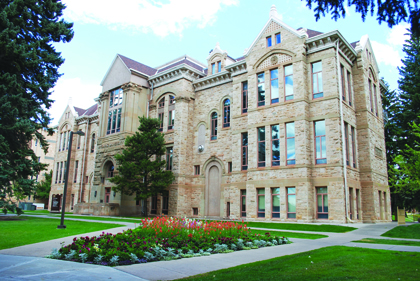 Founded in 1886, the University of Wyoming (UW) is a land grant university that offers world class education in the small community of Laramie. The university serves a student population of over 13,000 students, with 3,000 comprising of graduate students, and a total faculty of 1,150 members. UW offers 80 undergraduate and more than 90 graduate academic programs through seven colleges which include the following clinical and translational research related schools, programs, and colleges: School of Nursing, School of Pharmacy, Social Work Program, Family Medicine Residency Program (Casper & Cheyenne), the College of Arts & Sciences, which houses the Department of Psychology and Department of Family & Consumer Sciences, and the College of Health Sciences which houses the Communication Disorders Department, Kinesiology & Health Department, & Wyoming Institute for Disabilities (WIND). Clinical and translational research topics conducted at UW include diabetes mellitus/obesity, health disparities,exercise, cardiovascular risk factors, nutrition, and quality issues in hospital pharmacy. Wyoming is composed of large rural areas with health disparity issues, as such UW continues to be the primary means of access for allopathic medical education in the state since the university participates in WWAMI, a regional medical education program with the University of Washington School of Medicine.
To contact the MW CTR-IN Administrative Core by phone, you may call (702) 895-1079 between 8:30am to 5:30pm, Monday - Friday, excluding holidays. Or, you may email us at ctr-in@unlv.edu at any time.