The University of Montana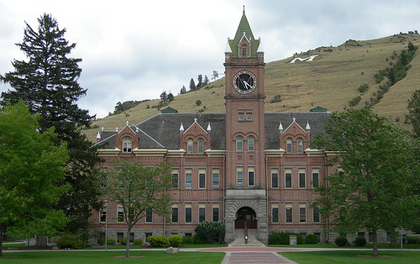 Founded in 1893, the University of Montana (UM) is the second largest university in the state and is considered a public research university. As the flagship campus of the University of Montana system, UM provides world class education in the heart of western Montana's stunning natural landscape. The university's beautiful 220 acre campus is located in Missoula, where it continues to cultivate an educated, engaged, and vibrant community. With a diverse student population of more than 15,000 students, with 1,700 being graduate students, and total faculty of 810 members, UM offers a diverse array of 174 undergraduate and graduate degree programs through 11 colleges which includes the following clinical and translational research related colleges and professional programs: College of Arts and Sciences, College of Education & Human Sciences, College of Forestry & Conservation, College of Technology and College of Health Professions & Biomedical Sciences, which include the Skaggs School of Pharmacy (Pharm. D.), School of Physical Therapy & Rehabilitative Sciences (DPT), School of Public and Community Health Sciences (MPH), and School of Social Work (MSW). As of 2012, UM's Center for Environmental Health Sciences (CEHS) was funded an award from the NCRR Institute of the National Institutes of Health under the Centers of Biomedical Research Excellence (COBRE). Successful collaborations to date have resulted in an extension of the original five-year COBRE grant, which continues to substantially enhance the multi-disciplinary biomedical research program at CEHS, whose mission is to advance knowledge of environmental impact on human health. UM is also the home to the UM Rural Institute: Center for Excellence in Disability Education, Research, & Service, which provides education, research, and service to enhance the quality of life for people with severe disabilities, especially those individuals living in Montana and other rural areas across the country. UM continues to bring together a critical mass of researchers to investigate mechanisms of pulmonary and cardiovascular diseases, immune and autoimmune disorders, developmental defects, and neurodegenerative diseases. These studies will lead to new or
better treatments, improved assessment of the actual risks caused by exposure to environmental agents, and more effective methods to detect and reduce the adverse effects of these agents on human health.
To contact the MW CTR-IN Administrative Core by phone, you may call (702) 895-1079 between 8:30am to 5:30pm, Monday - Friday, excluding holidays. Or, you may email us at ctr-in@unlv.edu at any time.