The University of Alaska, Fairbanks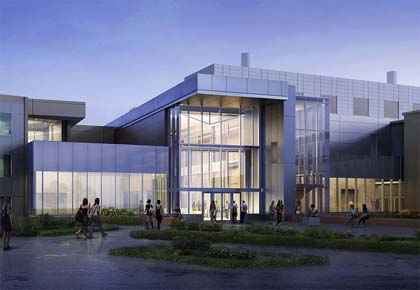 Founded in 1917, the University of Alaska Fairbanks (UAF) is the principal research university for the statewide higher education system of Alaska. Built on a 2,250 acre campus located near the center of Alaska, UAF offers 178 degrees & certificates in 114 disciplines and serves a population of 11,000 students, with 3,000 comprising of graduate students, and a total of 727 faculty members. The clinical and translational research related UAF institutes, centers, and colleges include the following: The Institute of Arctic Biology, College of Natura Sciences & Mathematics, and Center for Alaskan Native Health Research (CANHR). As a university that embraces a collaborative research model while working with Alaska Native communities, UAF's CANHR Clinical Research Facility was completed in 2012 and is the home to phlebotomy laboratories, and a nutrition research suite. Some of UAF's clinical and translational research activities include examination of environmental contaminants, studies of wildlife health with a focus on toxicology of marine fish, bioremediation, breathing and functional consequences of brainstem deficits, Sudden Infant Death Syndrome (SIDS), and zoonotic pathogens & their distributions in ecosystems. Having the largest number of PhD programs of all University of Alaska units, UAF has developed a significant program of biomedical research focused on the development and implementation of culturally appropriate translational research with American Indian and Alaska Native communities. With continued work with tribal groups and health care agencies to frame research questions, develop methodologies and procedures, and to interpret & apply data to prevention & treatment, UAF continues to spur their development capacity to address the unique problems that Alaska's native communities face in health disparities over the past 15 years.
To contact the MW CTR-IN Administrative Core by phone, you may call (702) 895-1079 between 8:30am to 5:30pm, Monday - Friday, excluding holidays. Or, you may email us at ctr-in@unlv.edu at any time.