Having been established in 2013, the Mountain West (MW) Clinical and Translational Research Infrastructure Network (CTR-IN) program encompasses 1/3rd of the U.S. landmass stretching across 4 time zones among 7 IDeA states that partners with the major 13 MW public state universities and constitutes almost 1/3rd of all of the 23 IDeA states (Figure 1).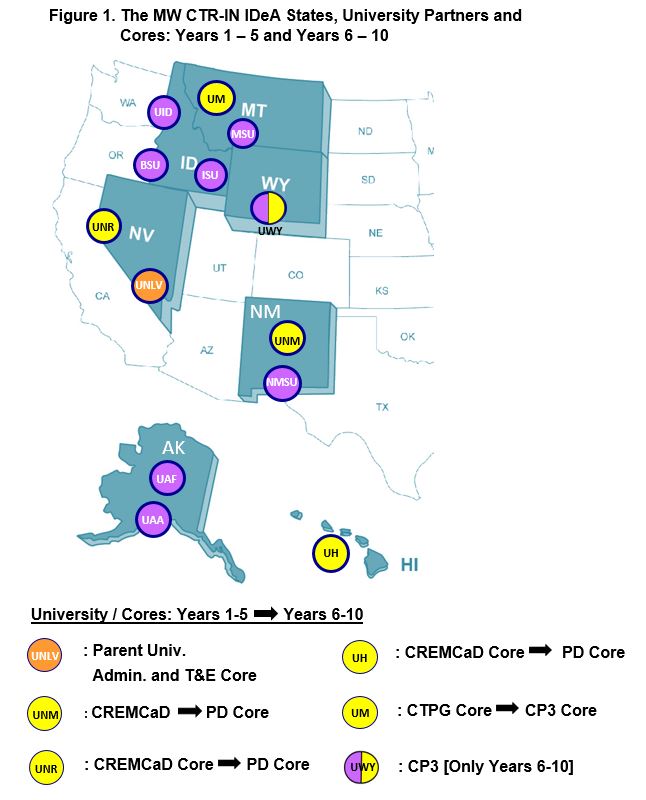 The MW CTR-IN Program is funded through the U54 mechanism by the National Institute of General Medical Services (NIGMS) at the National Institute of Health (NIH). The mission of the MW CTR-IN Program is to enhance the research infrastructure of the 13 MW University partners for the conduct of rigorous clinical and translational research (CTR) through 4 Cores: Administrative, Pilot Projects Program (CP3, formerly known as CTPG [Clinical and Translational Pilot Grants]), Professional Development (PD, formerly known as Clinical Research Education, Mentoring, and Career Development [CREMCaD]), and Biostatistics, Epidemiology, Research and Design (BERD, formerly known as Clinical Research Design, Epidemiology, and Biostatistics [CRDEB]). In addition, for Years 6-10, the MW CTR-IN Program will be adding two additional Cores: Community Engagement & Outreach (CEO) and Tracking & Evaluation (T&E).
The Administrative Core is located at the University of Nevada, Las Vegas (UNLV), the parent University of the MW CTR-IN Program. Under the leadership of the Principal Investigator, Parvesh Kumar, MD, the Administrative Core provides overall leadership and strategic direction to the MW CTR-IN Program including the day-to-day operational support to assist the other 3 Cores in meeting their goals and objectives. Specifically, the Administrative Core is responsible for the following programmatic activities:
Overall Leadership / Strategic Direction of the MW CTR-IN Program
Programmatic coordination of the U54 Cooperative Agreement with the NIGMS Program Staff at the NIH.
Supporting the organizational structure of the MW CTR-IN Program to facilitate the programmatic interactions amongst the Steering Committee, the Executive Committee, the Internal Advisory Committee and the External Advisory Committee.
Provide Supervision and Strategic Direction to the Cores of the MW CTR-IN Program
Coordinating communication to facilitate programmatic activities across the other Cores and the various organizational committees
Managing and coordinating the fiscal activities of the Program including the sub-awards for the 3 Cores and the sub-contracts for the Biostatisticians
Supporting the Tracking and Evaluation Unit that assesses metric-driven performance across the MW CTR-IN Program.
Planning and conducting the MW CTR-IN Annual Meeting.
Developing, maintaining and updating the MW CTR-IN Website
Facilitating and increasing collaboration among the other IDeA Programs (i.e., INBREs and COBREs) and the 13 University Partners in the MW Region for the conduct of CTR
Identifying and addressing health disparities in the MW Region
To contact the CTR-IN Administrative Core by phone, you may call (702) 895-1079 between 8:30am to 5:30pm, Monday - Friday, excluding holidays. Or, you may email us at ctr-in@unlv.edu at any time.