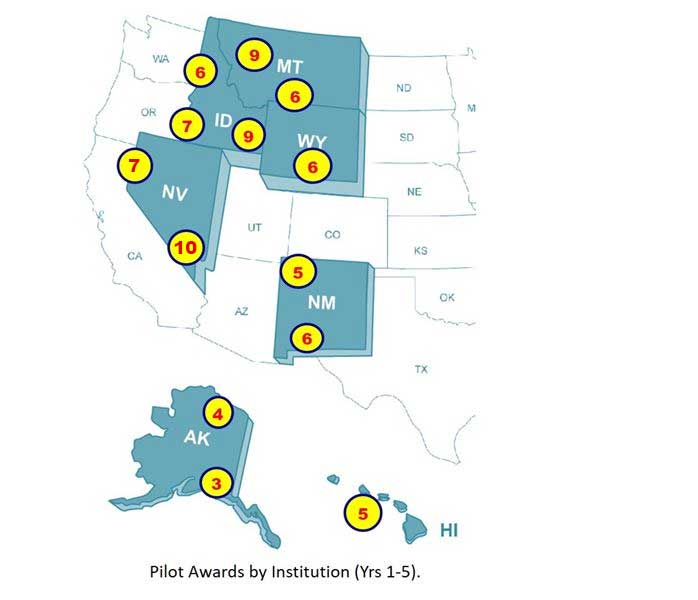 Current Multisite Pilot Projects (2016 – 2017)
Todd Seto
University of Hawaii AND Sreejayan Nair, University of Wyoming,
Return to Traditional Hawaiian Diet Study: Pilot Project to Improve Cardiometabolic Disparities Among Native Hawaiians
---
Mary Jo Cooley Hidecker
University of Wyoming AND Merrill Landers, University of Nevada Las Vegas:
Decreasing health disparities for persons with Parkinson's disease (PD) in rural communities: Assessing feasibility of coordinated telehealth
Current Health Disparities Pilot Grants (2016 – 2017)
Lindsay Larkins
University of Idaho:
Mechanical Treatment for Pregnancy Related Lumbopelvic Pain: Immediate treatment effects and gait changes
---
Julie Salvador
University of New Mexico Health Sciences
Expansion of Medication Assisted Treatment for Opioid Use Disorders in Rural Primary Care
---
Sherry Weitzen
University of New Mexico Health Sciences
Identifying predictors of neonatal abstinence syndrome (NAS) towards developing a risk score model
---
Luke Conway
University of Montana
Improving Smoking Cessation Treatments Via Nature Exposure
---
Alex Santos
University of Montana
Rapid screening of TBI in student athletes and veterans of rural mountain west
---
Elizabeth Morgan
Idaho State University
Access and Barriers to Primary Care Among Deaf Users of American Sign Language
---
Aida Midgett
Boise State University
Evaluating a brief, stand-alone bullying bystander intervention for mixed-race middle schools in underserved, predominantly Hispanic population
---
Jinan Banna
University of Hawaii at Manoa
Preventing excessive gestational weight gain via short mobile messages in WIC
---
Yan Yan Wu
University of Hawaii at Manoa
Socioeconomic and Behavior Determinants of Heath Disparities in Hawaii, a Multi-Ethnic Study
---
Mariah Ehmke
University of Wyoming
Behavioral Economic Measures for Improved Child Immunization Rates in Wyoming
---
Michael Johnson
University of Nevada, Las Vegas
Decision-Making Factors that Influence Cervical Cancer Screening Among Transgender Men
---
Heather Burkin
University of Nevada Reno
Mechanisms of Dysfunctional Quiescence in Preterm Labor
---
Fang Jiang
University of Nevada Reno
Multisensory perceptual training in the elderly
---
Ernesto Moralez
New Mexico State University
Adapted Integrative Health Coaching to Improve Pain Management for Hispanic Patients in Primary Care
2015 – 2016 Pilot Grants Awarded
Sandra Benavides-Vaello, Montana State University
Determining Diabetes and Hypertension Healthcare Needs for Low-Income Hispanics
Jingchun Chen, University of Nevada, Las Vegas
To Develop a Cellular Model of Microglia for Schizophrenia Research
Annette Crisanti, University of New Mexico Health Sciences
Development of the Impact of Peer Support Worker Instrument (I-PSW-I)
Michelle D`Antoni, University of Hawaii at Manoa
Therapeutic Targeting of Chemokine Receptors to Probe Immunopathogenesis of HIV-Associated Neurocognitive Disorders
Clare Fitzpatrick, Boise State University
Optimizing Surgical Treatment of Crouch Gait on a Patient-Specific Basis
Karen Heath, University of Alaska Anchorage
A Multi-Level Community-Based Fitness Intervention for Adults with ID
John Holmes, Idaho State University
Integrated Clinical Telepharmacist Delivered Chronic Disease Management in Rural Primary Care Clinics
Daniel Hudock, Idaho State University
EEG time-course analysis of the sensorimotor mu rhythm during speech perception
Bryn Martin, University of Idaho
MRI-based Biomarkers for Characterization of Amyotrophic Lateral Sclerosis
Marian Melish, University of Hawaii at Manoa
Effect of Doxycycline on Developing Coronary Aneurysms in Kawasaki Disease
Cristina Murray-Krezan, University of New Mexico Health Sciences
Informative Drop-out in Mammographic Density and Breast Cancer Risk Studies
Domen Novak, University of Wyoming
Robust driver attention monitoring by combining driving behavior with physiological measurements
Phillip Post, New Mexico State University Aggie Play
Laurie Slovarp, University of Montana
Development of the Montana Screening for Behavioral Cough Therapy
Jacqueline Snow, University of Nevada Reno
How human food decisions are influenced by real objects versus image displays
Qing Wu, University of Nevada, Las Vegas
A pilot study to Develop Personalized Reference Values of Bone Mineral Density
2014 – 2015 Pilot Grants Awarded
Mary Cloud Ammons, Montana State University
Biochemical association between skin microbiome and metabolomic landscape
Rajal Cohen, University of Idaho
Lighten up: Modifying postural state to reduce fall risk in older adults
Robert Coker III, University of Alaska Fairbanks
Therapeutic nutrition for alcohol rehabilitation
Diana Doumas, Boise State University
Efficacy of a web-based alcohol intervention for high school students
Craig McFarland, University of Montana
Using memory and imagination to combat depression
Katherine Morris, University of New Mexico
HSCG-CSF and G-CSFR as novel prognostic biomarkers in colorectal cancer
Sreejayan Nair, University of Wyoming
Effect of Fenugreek Furostanolic Saponin on insulin sensitivity in obese subjects
Frances Nedjat-Haiem, New Mexico State University
Improving advance care planning for older latinos with advanced cancers
Diane Ogiela, Idaho State University
Electrophysiology of plural -s processing in specific language impairment
Bracher Posten, University of Nevada, Las Vegas
Cerebellar transcranial direct current stimulation for Parkinson's disease
Thomas Rau, University of Montana
The development of a mulit-dimensional system of oculomotort evaluation for mTBI
Christopher Remien, University of Idaho
Mathematical modeling of acetaminophen-induced liver injury to assess outcome
Ivo Sah Bandar, University of Hawaii
Role of gut Macrophages and the microbiome in HIV-associated Immune Activation
Susan Tavernier, Idaho State University
The patient voice in healthcare
Christopher von Bartheld, University of Nevada, Reno
Analysis of Molecular links between strabismus and schizophrenia
Dong Xu, Idaho State University
Predicting the risks of drug-induced serotonin syndrome in elderly patients
2013 – 2014 Pilot Grants Awarded
Heather Burkin, University of Nevada, Reno
Myometrial mTOR Regulation of Preterm Labor
Jiguo Chen, University of Alaska, Fairbanks
Clinical application of preferential amplification of pathogenic sequences method
Mary Jo Cooley Hidecker, University of Wyoming
Expanding the Communication Function Classification System (CFCS) to Adolescents and Adults with Cerebral Palsy
Andrea Ferrante, University of Alaska, Fairbanks
Immunogenetic analysis of Autoimmune Hepatitis in Alaska Natives
Jane Grassley, Boise State University
Building Young Women's Health Literacy Skills through an Online Game to Promote Breastfeeding
Elizabeth Hodges Snyder, University of Alaska Anchorage
More water in the home for basic hygiene needs: Addressing feasibility, acceptability, and optimization of rainwater capture for rural Alaska homes that do not have in-house piped water.
Merrill Landers, University of Nevada, Las Vegas
High-intensity exercise and fall prevention boot camp for Parkinsons disease
Ryan Mays, University of Montana
Community-based walking exercise enhanced by orthoses to improve walking ability in patients with peripheral artery disease
Mary Miles, Montana State University
Sugar-sweetened beverages decrease benefits of exercise in overweight adults
Jean Pfau, Idaho State University
Correlating Autoantibody Profiles in Asbestos Lung Disease Phenotypes
John Scarbrough, New Mexico State University
Screening and Brief Intervention for Diabetes and Hypertension in Medically Underserved Hispanic Males
Isabel Silvestre, University of Nevada, Reno
Risk of CFS Due to Alleles of IgG Receptor Genes that Impair ADCC
Mingzhou Song, New Mexico State University
Genome-wide nonparametric functional dependency studies across ethnic populations
Chantal Vella, University of Idaho
Exercise and c-reactive protein in young, overweight and obese adults
Xiaomeng Xu, Idaho State University
Understanding the role of self-expansion in physical activity
2012 – 2013 Pilot Grants Awarded
Blakely Brown, University of Montana
Developing and pilot testing parent education activities within a childhood obesity prevention after-school program.
Suzanne Christopher, Montana State University
Understanding treatment adherence and health promoting behaviors of individuals with chronic disease on the Crow Reservation.
Luke Conway, University of Montana
Using Cognitive Complexity Research to Increase Hardened Smokers' Quit Attempts.
Kenneth Izuora, University of Nevada, Reno
Impact of periodontal disease on outcomes in diabetes.
Yu Kuang, University of Nevada, Las Vegas
Combined Circulating Tumor DNA and Molecular Imaging to Monitor Therapeutic Response in Sarcoma.
Seth Walk, Montana State University
Multicenter surveillance of Clostridium difficile infection in the United States: Examination of current testing guidelines.
Brian P. Bothner, Montana State University
Mass spectrometry-based analysis of clinical predictors for hemorrhagic shock.
Iain Buxton, University of Nevada, Reno
Post-Translational S-nitrosation of Therapeutic Targets in Preterm Labor.
Robert Coker, University of Alaska, Fairbanks
Muscle Preservation during Weight Loss in Older, Obese Individuals.
Eric Dugan, Boise State University
Temporal structure of variability in gait post stroke.
Mark Guiberson, University of Wyoming
Telehealth Behavioral Phenotype Language Impairment Markers for Spanish-speakers.
Cheryl Jorcyk, Boise State University
Association of serum OSM levels with metastatic breast cancer and therapeutic options.
David Lee, University of Nevada, Las Vegas
Walking biomechanics of persons with amputations wearing the Odyssey bionic ankle.
Colin McGill, University of Alaska, Anchorage
Devil's Club: Therapeutic Potential for Treating Rheumatoid Arthritis.
Mary Nies, Idaho State University
Spatial and Census Data to Evaluate Obese Persons and their Environment (SCOPE).
Samantha Ramsay, University of Idaho
Effectiveness of Child Centered Nutrition Phrases to Improve Food Behaviors.
Kristynia Robinson, New Mexico State University
Technology use to support behavior change in adults with chronic illness: A pilot.
Martin Schiller, University of Nevada, Las Vegas
Combinatorial GWAS analysis of patients with Alzheimer's disease.
Denise Wingett, Boise State University
An NK cell subset and beta-adrenergic agonist dysregulation of T cell CD40L in asthma.
Wendy Woodall, University of Nevada, Las Vegas
ERH screening Medical/Dental Risk Factors and CVD, T2 Diabetes, and Sleep Disorders.
To contact the CTR-IN Administrative Core by phone, you may call (702) 895-1079 between 8:30am to 5:30pm, Monday - Friday, excluding holidays. Or, you may email us at ctr-in@unlv.edu at any time.